Torsion Springs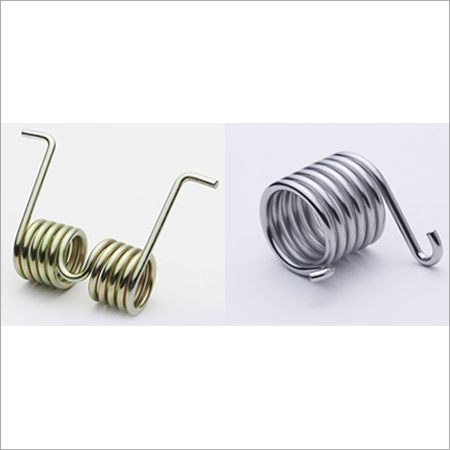 Torsion Springs
Product Description
TORSION SPRINGS
Delivering a top of the line array of torsion springs, these defy any kind of external force via in angular shaped deflecting end points. Unlike its name, this wire mostly helps in bending high pressure but not the torsional stress. Their structure consists of a close wound spring, whos body length enhances and the coil diameter reduces due to divergence.
Installation
The load which can be taken on the spring is extremely dependent on the form of end and the installation system. Having dual points of contact, one is placed at the end while the other is located at the arbor. Make sure that you clear out the place of the connection points and their relative position.
Types of Ends
Determining the spring end is very crucial. One must take absolute care while carrying out this work. The variation in the ends as well as the special end forming causes the client to face consistent tool change along with exceptional costs incurring.
Spring Materials
Working towards satisfying the intricate requirements of each patron, our company uses an array of A-graded materials for the production process. From stainless steel, alloy steels, carbon steels and some non-ferrous materials, to other exotic materials which include Inconel X-750, Inconel 718, Nimonic 90, Monel, Nimonic, Hastelloy, Beryllium copper, we utilize the best of the best so as to make sure that our patrons get a perfect result, always!
Spring design
Depending on the required preferences of each client, we can design the torsional springs for you as per the desired application, space and thrust requirements. A reputable manufacturer in this line of work, our array of springs are acquirable in multiple sizes and ends.
Surface Coating
Preventing these parts from corroding and giving them an excellent service life, our firm gives them a unique degree of finishing using Mechanical Zinc plating, Zinc Electro plating, Nickel Plating, Electrolysis Nickel plating, Geomet, Daromet coating, Cadmium plating, Powder coating, Epoxy painting and other similar goods. Every item in our product line is created as per the DIN 2194 & EN13906 standards.
Product details
| | |
| --- | --- |
| Finish | Polished |
| Wire Diameter | 0.1-5mm |
| Type | Torsion |
| Material | SS, Alloy Ateels, CS |