Compression Springs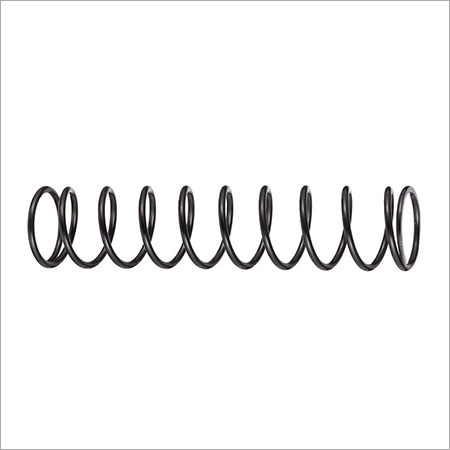 Compression Springs
Product Description
Compression Springs as per DIN 2095 & IS 7906
Delivering a technology-driven array of compression springs, these offer optimum resistivity to the axial compressive thrust. Having a structure of an open coil (pitch) with a helical spring, these parts are mostly coiled as constant diameter container.
Common forms
Such items which we provide are found in many forms. Be it the Conical, Concave (barrel), Convex (hourglass) and other similar varieties. The area which is assigned would decide the necessary height, internal length and exterior length of the springs. Thanks to the pressure and deflection, the structural extent is highly dependent on the stress levels which are undertaken. This is why it is always recommended to avert any design modifications. Do make sure that sufficient care is to be taken in order to decide on the provided space.
In the forms, clients generally prefer using round wire over the other shaped ones, due to its easy accessibility.
Spring Materials
High quality spring materials which are used for our production process includes carbon steels, stainless steel, alloy steels and other top notch non-ferrous materials. At International Industrial Springs, we also design our commodities using certain exotic materials(depending on request). These include-Inconel X-750, Inconel 718, Nimonic 90, Monel, Nimonic, Hastelloy, Beryllium copper among many more.
Spring design
One of the most crucial facts which we firmly abide by is the usage of none other than high-grade materials. Our team of experts decide this on the basis of numerous properties such as mechanical and electrical properties, operating conditions among various others. When we talk about heavy duty pressure cycles, one must always maintain a firm eye on the quality aspect of each commodity. Scratches, seams and other such imperfections are totally unacceptable, as they have a major impact on the fatigue life of the commodity. Aiming at giving the best experience, our team uses certified carbon and alloy steel for its fabrication process, thus giving efficient service when it comes to heavy stress cycles.
Stress Relieving
The process of coiling causes immense pressure, which is why it is of vital importance reduce the stress which is being caused on the Compression Springs. In order to remove or reduce the residual stress which is caused, these items go through a relieving process. Depending on the material used to create such goods, the furnace temperature and soaking duration would keep changing accordingly. The affect these temperature changes cause is the dimensional distortion, wherein the producer manages the modifications that are necessary. In this process, one should note that foaming should be carried out right after the relieving work. Supported by an in-house furnaces, these heat-treatment devices create large diameter coils. Our shot penning operations are carried out on the springs so as to improve their fatigue llife.
IIS Capacity
A top of the line manufacturer, the springs which we offer can be availed in customized sizes, lengths and dimensions, based on the requirements of each patron. Our team of experts have fabricated such coils which have an OD of OD of 500mm and length 1560mm. Developing automatic coilers which range upto a diameter of 8.0mm, makes us a widely chosen firm in the market. Our organization holds semi-automatic machines which range from 8mm to 22mm. The hot coiling systems used by us come at a range of 22mm to 70mm. We are acknowledged for our knack in creating coil springs with a range of 0.2mm upto 70mm.
We are also utilizing an advanced array of testing machines which range upto 100 tons, in which our team can inspect divergence of upto 1200mm. The automatic grinders on the other hand create parallelism inside 0.5mm.
Our 47+ years of experience in this sector of the business has helped us in attaining a strong foothold in the industry. We produce such Compression spring whos tolerances are in strict compliance to the IS 7906 or DIN 2095.
Surface coating
Our establishment has attained a great deal of respect for the array of finishing services which it offers to their produce. From Mechanical Zinc plating, Zinc Electro plating, Nickel Plating, Electrolesss Nickel plating, Geomet, Dacromet coating, Cadmium plating, Powder coating, Epoxy painting, one can choose from an array of coatings, depending on their specific desires.
Product details
| | |
| --- | --- |
| Length | 1560 mm |
| Material | Stainless Steel,Alloy,CS |
| Shape | Spiral |
| Style | Cylinder |
| Wire Diameter | 0.2 - 70 mm |
| Outer Diameter | 500 mm |