Belleville Washers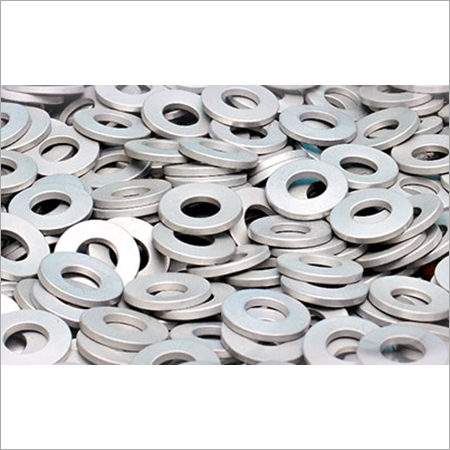 Belleville Washers
Product Description
Belleville Washer as Per DIN 6796

A highly reputed organization, International Industrial Springs is fabricating a cutting edge array of Belleville washers in both imperial as well as metric sizes. Also termed as Conical Spring Washers, these are designed particularly for heavy duty bolted sections such as Transmissions, Bus Bars, Rectifiers, Heat Exchangers as well as Transformers and other such equipments. Being built to give top performances, Having an application to countercheck the consequence of setting, which makes the bolt/nut assemblies work in a weak manner. These instruments do not prevent the loosening of the assembly line in an effective manner, under different radial pressures and are thus created for the use with brief bolts, which are predominantly effected by force.
These washers function with the help of high stressed elements, which is why they can not be applied for dynamic loading and inconsistent loading processes. These conical washers which are developed as per DIN 6908, are mostly used with screw as well as washer components made clear in the DIN 6900 part 5. Created in a professional manner, they are to be used with bolted connections, which consist of nuts of property class 8.8 to 10.9 (as specified in ISO 898 Part 1). Inspected in adherence to the DIN 6796 and DIN 267 Part 26, assures our patrons of receiving an A-grade commodity.
Our company has all your desired products readily available in multiple sizes, each of which have been designed via using High Carbon Steel, Stainless Steel 300 series and 17-7 PH.
Heavy Duty Belleville Washers As per DIN 6796

Material : 50CrV4 or Spring Steel CK75
Technical Specification

| Nominal Bolt Size mm | d1 H14 mm | d2 H14 mm | s3) mm | h max 1) mm | h min 2) mm | Flattening Force N | Residual Spring Force N |
| --- | --- | --- | --- | --- | --- | --- | --- |
| 2 4) | 2.2 | 5 | 0.4 | 0.60 | 0.50 | 920 | - |
| 2.5 4) | 2.7 | 6 | 0.5 | 0.72 | 0.61 | 1540 | - |
| 3 4) | 3.2 | 7 | 0.6 | 0.85 | 0.72 | 2350 | - |
| 3.5 4) | 3.7 | 8 | 0.8 | 1.06 | 0.92 | 3160 | - |
| 4 | 4.3 | 9 | 1.0 | 1.30 | 1.12 | 4050 | 1400 |
| 5 | 5.3 | 11 | 1.2 | 1.55 | 1.35 | 6700 | 2300 |
| 6 | 6.4 | 14 | 1.5 | 2.00 | 1.70 | 9400 | 4200 |
| 7 | 7.4 | 17 | 1.75 | 2.30 | 2.00 | 13700 | 6200 |
| 8 | 8.4 | 18 | 2.0 | 2.60 | 2.24 | 17200 | 7700 |
| 10 | 10.5 | 23 | 2.5 | 3.20 | 2.80 | 27500 | 12400 |
| 12 | 13 | 29 | 3.0 | 3.95 | 3.43 | 40000 | 18000 |
| 14 | 15 | 35 | 3.5 | 4.65 | 4.04 | 55000 | 25000 |
| 16 | 17 | 39 | 4.0 | 5.25 | 4.58 | 75000 | 34000 |
| 18 | 19 | 42 | 4.5 | 5.80 | 5.08 | 95000 | 57000 |
| 20 | 21 | 45 | 5.0 | 6.40 | 5.60 | 122000 | 73000 |
| 22 | 23 | 49 | 5.5 | 7.05 | 6.15 | 152000 | 91000 |
| 24 | 25 | 56 | 6.0 | 7.75 | 6.77 | 175000 | 122000 |
| 27 | 28 | 60 | 6.5 | 8.35 | 7.30 | 230000 | 161000 |
| 30 | 31 | 70 | 7.0 | 9.20 | 8.00 | 280000 | 196000 |

Heavy Duty Belleville Washers As per DIN 6908
Material : 50CrV4 or Spring Steel CK75
| | | | | | | |
| --- | --- | --- | --- | --- | --- | --- |
| M | D1_MIN | D2_MAX | S_MAX | S_MIN | H_MAX | H_MIN |
| 2.5 | 2.25 | 6 | 0.5 | | 0.72 | 0.61 |
| 3 | 2.75 | 7 | 0.6 | | 0.85 | 0.72 |
| 3.5 | 3.2 | 8 | 0.8 | | 1.06 | 0.92 |
| 4 | 3.6 | 9 | 1 | | 1.3 | 1.12 |
| 5 | 4.55 | 11 | 1.2 | | 1.55 | 1.35 |
| 6 | 5.5 | 14 | 1.58 | 1.42 | 2.6 | 2.3 |
| 7 | 6.5 | 17 | 1.58 | 1.42 | 2.35 | 2.3 |
| 8 | 7.4 | 18 | 2 | | 3.6 | 2.8 |
| 10 | 9.3 | 23 | 2.5 | | 4.1 | 3.3 |
| 12 | 11 | 29 | 3 | | 3.5 | 3.8 |