Serrated Washers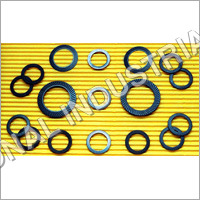 Serrated Washers
Product Description
Relying on our huge experience and acquaintance in this arena, we are noted amongst the innovative and important manufacturers, suppliers and exporters of Serrated Washers. Made from the premium quality materials to add durability and performance, these washers are available in a variety of sizes, dimensions and specifications. Our offered range of Serrated Washers is widely used in automobile, construction and other engineering industries for different applications.
The Serrated Washers offered by our company are high-end Disc Springs which have a Trapezoidal Cross Section on both sides. This assists and provides an excellent gripping of the structure. Being ready to fit washers in nature, they can keep up the preload for long durations and thus avert any kind of loosening. Since the nut is installed in a rigid manner, the serrations crunches into the mating faces, which in turn forbids the screw from falling off due strong vibrations. Along with this, the disc shape holds the required tension which is required. Acquirable in a number of sizes and specifications, the diameter of such washers can be designed as per your needs. Since the external length is matched the main diameter of the screw head, it aids in working with the screws and bolts in a more efficient manner, leaving aside the countersunk screw.

The positives of Serrated Safety Washers are :
Used for extreme vibration opposition due to affirmative rib contact.
Outstanding pre tensioning.
Via proper radius option, no splitting/breaking occurs during tightening.
The concentric thrust of the washer destroys the possibilities of bending the fastener.
Extensive application and flexibility, reducing stocks.