Lock Rite Washers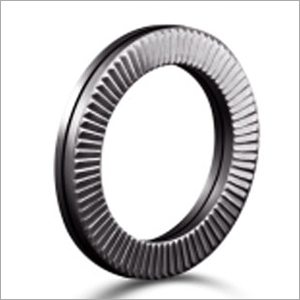 Lock Rite Washers
Price And Quantity
Piece/Pieces

100 onwards INR
Product Description
Lock Rite Washer DIN 25201
Lock-Rite washers are a set of highly advanced tools which find their use mostly in Paris. Both such washers come with a radial teeth setup, and are installed opposite one another. Finding their application via bolts and threaded holes, these devices have an assistance faster joint which helps in managing the tension caused during vibration and dynamic loads. Made using first-class components, allows our array of products to be a top choice among numerous countries across the globe. An important point to note is that while utilizing the Bolts and Nuts, one pair has to be kept on either side. The washers get rid of the use of adhesives for locking since they automatically secures the joints.
Applications
These top of the line washers are mainly utilizes in industries which need high-powered results, such as Mining , Agriculture Equipment , Automobile, Railways, Hydro Power & Thermal Energy etc.
Special Features of LR Washer :
1.Assisting fastener joints during vibration & dynamic pressure.
2.Accelerated and casual to mount and take out with regular tools
3.Reusable
4.SST : > 1000 hrs. without red rust
Tested & Approved :
1.Bolt Science Ltd (UK)
2.Automotive Research Associate of India (ARAI)
3.Govt. of India, Ministry of Railways Research Designs & Standards.

IIS Manufactures & Supplies Lock Rite Washer DIN 25201
M3 - M8 = Di 0.1 mm
M10 - M42 = Di 0.2 mm M45 - M130 = Di +0.5 / -0.0 mm
M3 - M24 = De 0.2 mm
M27 - M42 = De 0.3 mm M45 - M130 = De +0.0 / -2.0 mm
M3 - M42 = T 0.25 mm
M45 - M130 = T 0.75 mm

Lock-Rite Steel Washers
Dimension chart
IIS Part No.

Bolt Size

Dimensions in mm




Metric

UNC

Outer Dia. (De)

Inner Dia. (Di)

Thickness (T)



















LR7x3.4x1.8M3ZF

M3

# 5

7.0

3.4

1.8

LR7.6x3.9x1.8M3.5ZF

M3.5

# 6

7.6

3.9

1.8

LR9x3.9x1.8M3.5ZF

M3.5

# 6

9.0

3.9

1.8

LR7.6x4.4x1.8M4ZF

M4

# 8

7.6

4.4

1.8

LR9x4.4x1.8M4ZF

M4

# 8

9.0

4.4

1.8

LR9x5.4x1.8M5ZF

M5

# 10

9.0

5.4

1.8

LR10.8x5.4x1.8M5ZF

M5

# 10

10.8

5.4

1.8

LR10.8x6.5x1.8M6ZF

M6




10.8

6.5

1.8

LR13.5x6.5x2.5M6ZF

M6




13.5

6.5

2.5

LR11.5x7.2x1.8x1/4




1/4"

11.5

7.2

1.8

LR13.5x7.2x2.5x1/4




1/4"

13.5

7.2

2.5

LR13.5x8.7x2.5M8ZF

M8

5/16"

13.5

8.7

2.5

LR16.6x8.7x2.5M8ZF

M8

5/16"

16.6

8.7

2.5

LR16.6x10.3x2.53/8ZF




3/8"

16.6

10.3

2.5

LR21.0x10.3x2.5ZF




3/8"

21.0

10.3

2.5

LR16.6x10.7x2.5M10ZF

M10




16.6

10.7

2.5

LR21.0x10.7x2.5M10ZF

M10




21.0

10.7

2.5

LR18.5x11.4x2.5M11ZF

M11

7/16"

18.5

11.4

2.5

LR19.5x13x2.5M12ZF

M12




19.5

13.0

2.5

LR25.4x13x3.4M12ZF

M12




25.4

13.0

3.4

LR19.5x13.5x2.51/2ZF




1/2"

19.5

13.5

2.5

LR25.4x13.5x3.41/2ZF




1/2"

25.4

13.5

3.4

LR23x15.2x3.4M14ZF

M14

9/16"

23.0

15.2

3.4

LR30.7x15.2x3.4M14ZF

M14

9/16"

30.7

15.2

3.4

LR25.4x17x3.4M16ZF

M16

5/8"

25.4

17.0

3.4

LR30.7x17x3.4M16ZF

M16

5/8"

30.7

17.0

3.4

LR29x19.5x3.4M18ZF

M18




29.0

19.5

3.4

LR34.5x19.5x3.4M18ZF

M18




34.5

19.5

3.4

LR30.7x20x3.4x3/4




3/4"

30.7

20.0

3.4

LR39x20x3.4x3/4




3/4"

39.0

20.0

3.4

LR30.7x21.4x3.4M20ZF

M20




30.7

21.4

3.4

LR39x21.4x3.4M20ZF

M20




39.0

21.4

3.4

LR34.5x23.4x3.4M22ZF

M22

7/8"

34.5

23.4

3.4

LR42x23.4x4.6M22ZF

M22

7/8"

42.0

23.4

4.6

LR39x25.3x3.4M24ZF

M24




39.0

25.3

3.4

LR48.5x25.3x4.6M24ZF

M24




48.5

25.3

4.6

LR39x27.9x3.4x1




1"

39.0

27.9

3.4

LR48.5x27.9x4.6x1




1"

48.5

27.9

4.6

LR42x28.4x5.8M27ZF

M27




42.0

28.4

5.8

LR48.5x28.4x5.8M27ZF

M27




48.5

28.4

5.8

LR47x31.4x5.8M30ZF

M30

1 1/8"

47.0

31.4

5.8

LR58.5x31.4x6.6M30ZF

M30

1 1/8"

58.5

31.4

6.6

LR48.5x34.4x5.8M33ZF

M33

1 1/4"

48.5

34.4

5.8

LR58.5x34.4x6.6M33ZF

M33

1 1/4"

58.5

34.4

6.6

LR55x37.4x6.6M36ZF

M36

1 3/8"

55.0

37.4

6.6

LR63x37.4x6.6M36ZF

M36

1 3/8"

63.0

37.4

6.6

LR58.5x40.4x6.6M39ZF

M39

1 1/2"

58.5

40.4

6.6

LR63x43.2x6.6M42ZF

M42




63.0

43.2

6.6

LR70x46.2x7M45ZF

M45

1 3/4"

70.0

46.2

7.0

LR75x49.6x7M48ZF

M48




75.0

49.6

7.0

LR80x53.6x7M52ZF

M52

2"

80.0

53.6

7.0

LR85x59.1x7M56ZF

M56

2 1/4"

85.0

59.1

7.0

LR90x63.1x7M60ZF

M60

2 1/2"

90.0

63.1

7.0

LR95x67.1x7M64ZF

M64




95.0

67.1

7.0

LR100x71.1x9.5M68ZF

M68




100.0

71.1

9.5

LR105x75.1x9.5M72ZF

M72




105.0

75.1

9.5

LR110x79.1x9.5M76ZF

M76

3"

110.0

79.1

9.5

LR115x83.1x9.5M80ZF

M80

3 1/8"

115.0

83.1

9.5

LR120x88.1x9.5M85ZF

M85




120.0

88.1

9.5

LR130x92.4x9.5M90ZF

M90




130.0

92.4

9.5

LR135x97.4x9.5M95ZF

M95




135.0

97.4

9.5

LR145x103.4x9.5M100ZF

M100

4"

145.0

103.4

9.5

LR150x108.4x9.5M105ZF

M105




150.0

108.4

9.5

LR155x113.4x9.5M110ZF

M110




155.0

113.4

9.5

LR165X118.4X9.5M115ZF

M115




165.0

118.4

9.5

LR170x123.4x9.5M120ZF

M120




170.0

123.4

9.5

LR173x128.4x9.5M125ZF

M125




173.0

128.4

9.5

LR178x133.4x9.5M130ZF

M130

5"

178.0

133.4

9.5